Celeste: Astrolabe's free mobile app for calculating charts
● Be always able to cast a chart. Get an instant, easy-to-read wheel for any birth data that you input. Long/lat and time standard are automatically supplied. As a bonus, you get interpretations for each birth planet in its sign, and for current applying personal transits.
● Always know the current state of the heavens. View a wheel showing current planet positions and aspects, with houses set for your preferred location. See interpretations for the current moment, based on the next aspects to be made by the Moon and planets.
Celeste is free at the iTunes store.
Great news!
Celeste will soon be available for Android smartphones and tablets as well as the iPhone, iPad and iPod Touch. By being a beta tester of the new Android version, you can try it out now.
Before downloading, tap your mobile device's Settings icon, select Security, and make sure that there is a checkmark next to "Unknown Sources."
To download your free beta copy of Celeste, go to your mobile device's browser and visit http://alabe.com/temp/celeste.apk.
Then you'll be able to cast natal and current charts any time, anywhere for free!
Celeste on the Android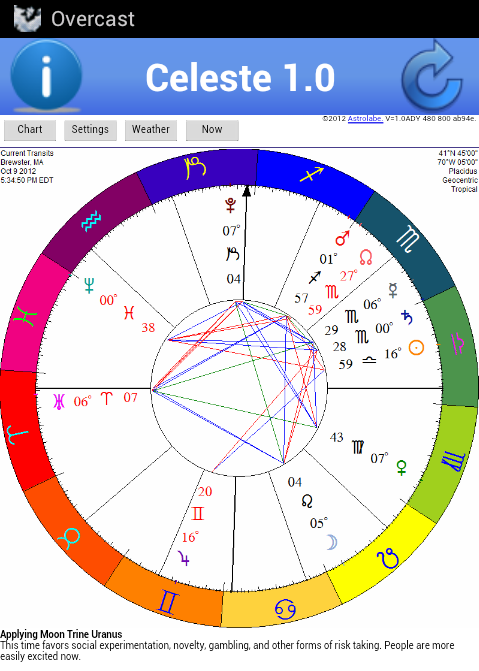 Celeste on the iPad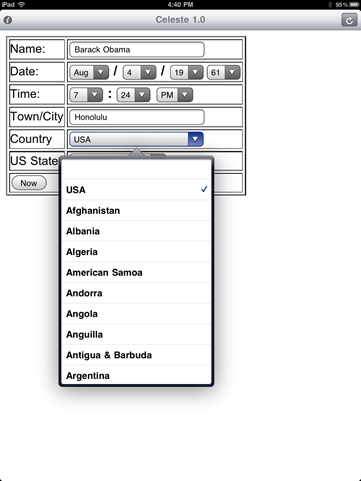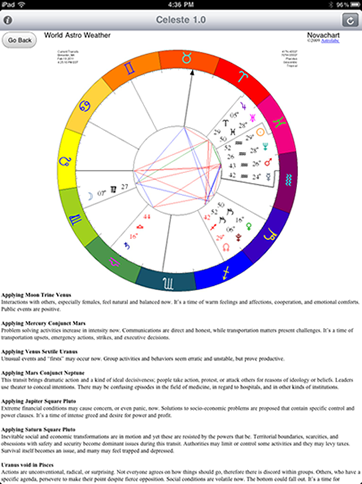 ---
Celeste Pro Coming Soon
Be the first to know when Astrolabe releases a new product. Receive emails with discounts on our products. Sign up below to be on our AUGuries mailing list.