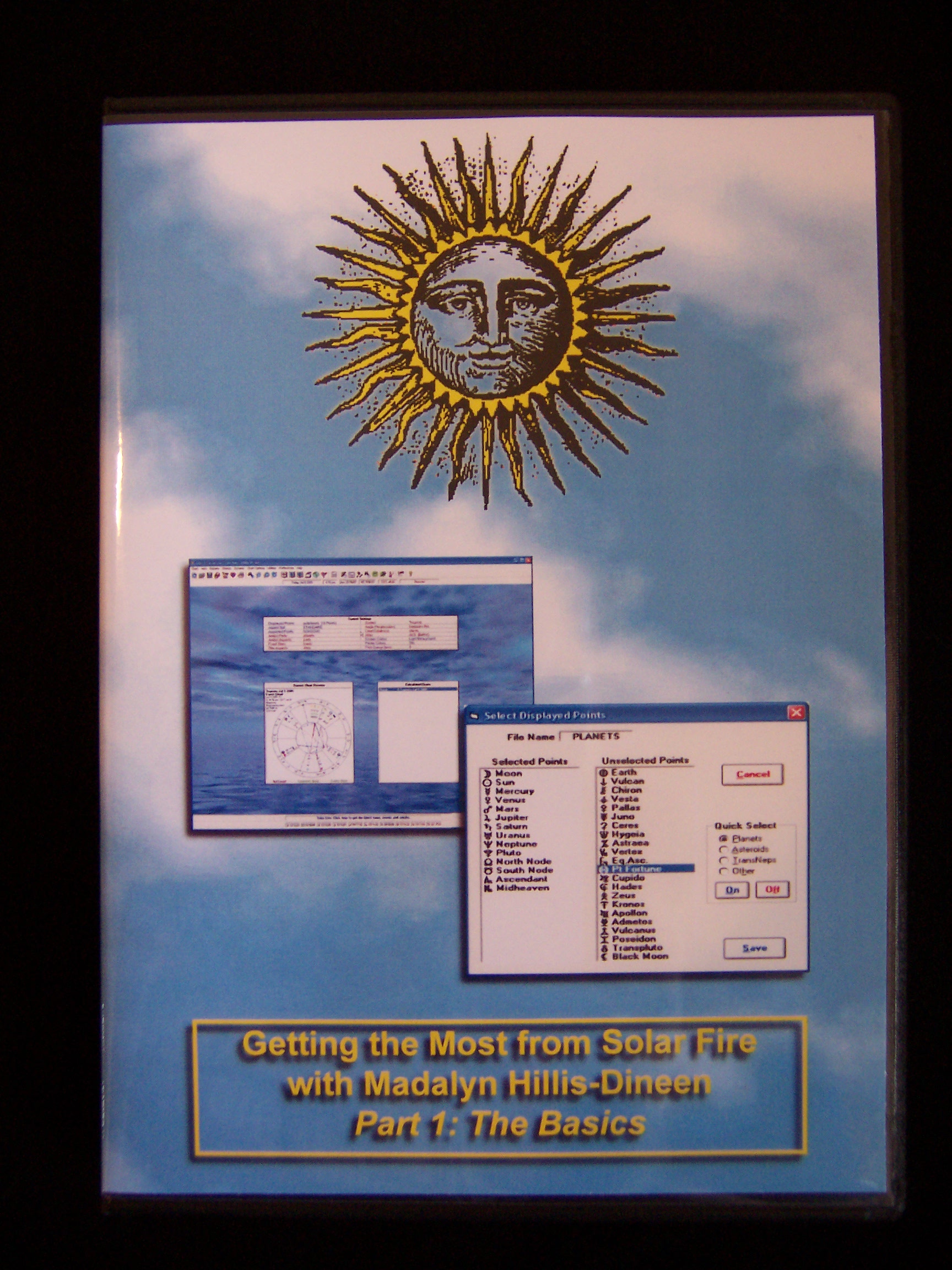 DVD 1: The Basics
T his DVD will teach you all you need to know in order to get started with your Solar Fire program. It covers setting preferences, creating and editing files, casting charts of all types, Solar Fire's reports and many of the most frequently asked questions from Solar Fire users, new and seasoned.

Approximate running time: 1 hour 55 minutes. $75. Order Online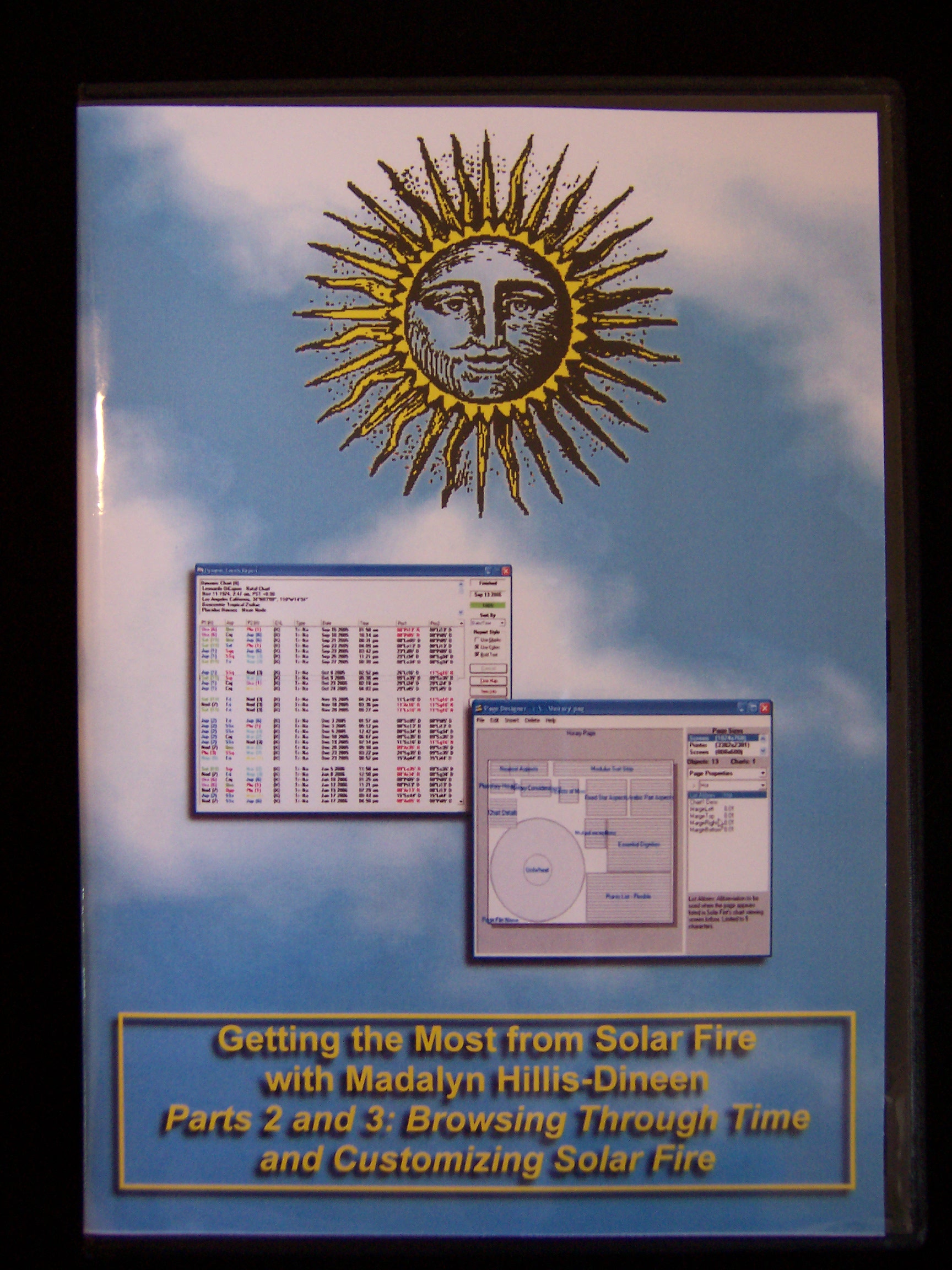 DVD 2: Browsing through Time and Customizing Solar Fire
This DVD explains all of the dynamic features included in Solar Fire. You'll learn about creating dynamic reports, using chart animation, aspect highlighting and filtering, creating a graphic ephemeris, the ephemeris generator, and the eclipse and electional searches. In short, everything you need to know to browse through time with Solar Fire. The section on Customizing Solar Fire takes you through editing wheels and custom pages, interpretations and creating tasks with the Astrologer's Assistant.

Approximate running time: 1 hour 45 minutes. $75. Order Online

NOTE: Though v. 6 is used in DVD 1 and 2, it is appropriate for owners of versions 5, 6, and 7 & 8 (Solar Fire Gold) since many of the features discussed are consistent throughout the various versions.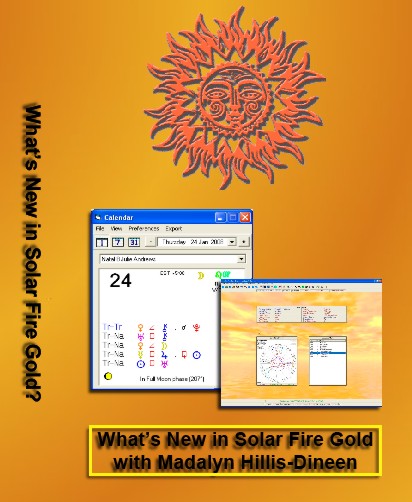 DVD 3: What's New in Solar Fire Gold?
This DVD will take you on a guided tour of the new features in Solar Fire Gold, v. 7. Find out about the new calendar features, the decorative charts, the new Electional and file searches, and more.

Approximate running time: 1 hour 5 minutes. $50. Order Online
Vizualizations™ CDs with Joyce Levine

Featuring a Left Brain-Right Brain format … with specially composed harp music and the soothing voice of Joyce Levine.
Track 1 – Clear explanation and specific exercises that help you assimilate astrological information.

Track 2 – The guided meditation on this track brings results.
The Astrology Series - Meditation CDs
These CDs help you get the best results possible from astrological cycles.

Pluto – The Shadow or The Light? Let go of anger and fears. Develop faith. Get in touch with Pluto's transformative qualities.
Track 1 - Integrating Pluto Cycles, guides you through Pluto transits and helps you deal with your unconscious motivations.
Track 2 guides you through a meditation to integrate Pluto's energy into your psyche.
$12.95 - Order Online

Neptune – Spirituality or Escapism? Unlock your capacity for creativity, love, and spirituality
Track 1 - Integrating Neptune Cycles, provides an understanding of Neptune transits and helps you unlock your creative potential.
Track 2 guides you through a meditation that helps you let go of "fog and illusion," and create images of beauty and spirituality.
$12.95 - Order Online

Jupiter – Good Luck. Opportunity. Abundance
Track 1 - Integrating Jupiter Cycles, helps you make the most of Jupiter transits by recognizing how to expand your life, set new goals, and create abundance.
Track 2 guides you through a meditation that helps you realize the best that life
$12.95 - Order Online

Uranus – Erratic Conditions and Upheaval, or The Freedom to Be Ourselves?
Track 1 - Integrating Uranus Cycles, helps you discover what true freedom means to you. It helps you identify what changes you need to make and how to make them.
Track 2 guides you through a meditation leading to a Uranian transformation .
$12.95 - Order Online

Saturn – Handling Responsibilities. Gain wisdom from experience. Develop positive karma.
Track 1 - Integrating Saturn Cycles, guides you through Saturn transits and teaches you what you need to learn from them.
Track 2 guides you through a meditation to help you gain positive results from Saturn.
$12.95 - Order Online
The Self Help Series



Creative Visualization - Learn how to use your thoughts to create the life you've always wanted
Track 1 explains creative visualization and gives exercises.
Track 2, the meditation, guides you through relaxing the body, opening the chakras, and creatively visualizing what you desire.
$15.95 - Order Online



Chakra Meditation. Relax, Reduce Stress. Connect with your Higher Self
Track 1 explains meditation and the chakras.
Track 2, the meditation, guides you through relaxing the body, opening the chakras, and meditating .
$15.95 - Order Online

Releasing Anger and Resentment. Release hurtful and upsetting experiences of the past. Move on to the positive future you create.
Track 1 provides exercises for letting go.
Track 2 relaxes the body, opens the chakras, and guides you through a meditation for releasing anger and resentment.
$12.95 - Order Online

Contacting Your Guardian Angel. Learn how to connect with your Guardian Angel
Track 1 tells you the history of angels and reveals people's experience with them. It gives you exercises that will help you contact your own Angel.
Track 2, the meditation, guides you through a relaxation. It takes you to your special place and introduces you to your Guardian Angel.
$12.95 - Order Online
For more info or to order call:
1-800-THE-NOVA
---
Gary Christen's 2014 Winter Solstice Talk - MP4 Online Viewing with Bonus downloadable files - $40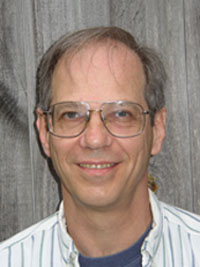 For more than 30 years, Gary has been amazing astrology audiences with his accurate forecasts of world events and trends using the techniques of the Symmetrical (Uranian) system of astrology and the Winter Solstice chart. During these difficult times, you need to be armed with all the information you can get about our current astro cycles. Purchase this year's talk and be in the know. $40.
Gary Christen is a well-known practitioner of Uranian Astrology (now referred to as Symmetrical Astrology). An astrologer since his teens, he is the first person in modern times awarded an accredited B.A. degree in astrology (Livingston College, Rutgers University, 1974). A professional astrologer since 1969, Gary co-founded Astrolabe, Inc., assisting in the development of many Astrolabe products.
An international lecturer, Gary has been teaching since the early seventies. He is currently perfecting Nova Chartwheels, which he considers representative of the future of astrology.
Gary's Solstice Talk is viewable on video in MP4! Two bonus downloadable files included.
Order Gary's 2014 Solstice Talk - $40
Order Gary's 2013 Solstice Talk - $40
Order Gary's 2012 Solstice Talk - $40
Order Gary's 2011 Solstice Talk - $40
Order Gary's 2010 Solstice Talk - $35
Order Gary's 2009 Solstice Talk - $30
---
Lynn Bell's Solar Return Configurations Lecture May 2013 - $15
2013 is a fascinating year for the study of solar returns. Most of us are aware of the power of the ongoing outer planet cycles, and the Solar return can fine tune our understanding of how this is working through our lives. Almost everyone will have a complex aspect structure in this year's solar return chart whether it is a Yod, a Grand trine or even a grand cross. Many T-squares will form between personal planets and the ongoing Uranus Pluto Square, and while Solar return information complements what we know about transits, it also brings rare opportunities, and enhances our understanding, of what we are asked to work on during a particular 12 month period. We will also look at the cyclical aspects of Solar returns, with particular attention to the moon.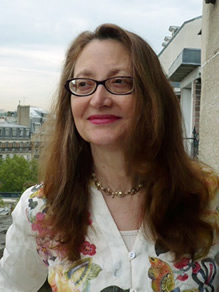 About Lynn Bell: Lynn is a Paris-based astrologer whose work spans multiple cultures as a speaker, teacher, author and consultant in astrology. Initially self-taught, she quickly built a private practice with an international clientele. After many years of teaching and lecturing throughout France, she was invited to join the Centre for Psychological Astrology in London in 1995. As a master consulting astrologer with a multi-layered approach, Lynn's work combines psychological and spiritual perspectives. Her interest in working with familial patterns first emerged from work with clients. After personal work in analysis, her training in Eriksonian Hypnosis led to work in family systems, and later, several years of ongoing research groups on the charts of families. Her book on planetary patterns in families, Planetary Threads , was first published in 1998.
Lynn is interested in many aspects of astrology, from mundane cycles to archetypes and mythology, the relation between soma and psyche, to reflection on the psychological implications of traditional astrology. Her expertise in Solar Returns resulted in the publication of Cycles of Light in 2005. She is also one of the co-authors of the Mars Quartet , and numerous journal and magazine articles.
Lynn has been a featured speaker at many of the major astrology conferences in the world. She lectures and teaches seminars around the world -- from Western Europe to far-off lands like Bali, Mexico, Australia and South Africa as well as the US. In the UK she teaches for The Faculty of Astrological Studies Summer school in Oxford, and the LSA, as well as the CPA, and she continues to consult from her home in Paris. Outside the world of astrology, she has often collaborated with Caroline Myss, and her CMED Institute. She has been part of the faculty of the New Chartres School, held every year, for the past seven years in Chartres, France by Wisdom University.
Order Lynn Bell's May 2013 Lecture - $15
For more info or to order call:
1-800-THE-NOVA